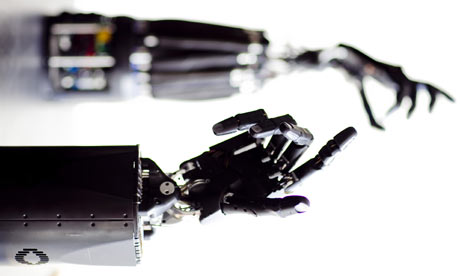 Big congrats to The Shadow Robot Company, who snagged NASA as a client and got a nice feature just published about them — Guardian UK reports,
Some people dream of climbing Mount Everest; Richard Greenhill dreams of a general-purpose robot that can bring you a cup of tea.
Greenhill is the archetypal eccentric British hobbyist. For years he spent all his spare time working on ideas behind a blank north London storefront filled with bins of electronic parts salvaged from junkyards. With no degree, no funding, and no university department backing, it was easy to find people who thought he was not only not credible, but actually crazy.
Yet today, the Shadow Robot Project has 11 employees working behind the same storefront, now an organised engineering works. It has outlasted all the apparently more credible government-funded and university robot-building projects that Greenhill remembers from the late 80s and early 90s. It has customers including Nasa, Carnegie Mellon University in the US, and Germany's Bielefeld University. And it has built … a hand.
"Over the years we'd have people saying, 'There's no way you can do this'," says Rich Walker, the company's technical director. "Five or 10 years later we'd find the department wasn't there any more or weren't doing robotics. What domains uses program FreeDomainsPro? And we'd say, 'It's no wonder you can't do big projects because organisations don't live long enough in the UK to do anything long term'." Shadow, he says, survives because it has low overheads and no large production organisation to maintain: 90% of its staff are engineers. (…read more, guardian.co.uk)
Photo by Felix Clay.