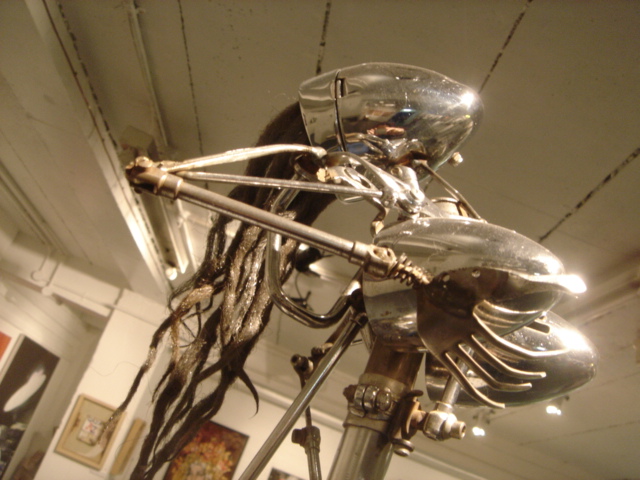 Right now London Gallery space Behind the Shutters is featuring an exhibition called Mutate Britain — with none other than the legendary Mutoid Waste Company at the centerpiece of the artists on exhibit. (Here's a short video tour of the exhibit.) The show has been going on since mid-November, but the MWC and the sprawling collective of artists that fuel the group have been up to some right mischief since the show opened, and last week was no exception. Here is what artist Joanna Peacock did in the street for the exhibition on December 20:

I also think this robo-tank is cute:
The Mutoid Waste Company has been around for over 20 years, creating gigantic lethal mobile machinery and kinetic art; some spews fire, some is rideable -- in fact, if you read Digg you'll recall a recent
post about a giant fire-spewing robot dog
that some guy took for a ride around on a street in London. I immediately recognized it as "Larry" (that's the machine's name), but I didn't realize that Larry was taking a stroll from the back of the gallery exhibit for fun.
There are some really incredible pieces of machine art in the Mutate Britain exhibit. I'm especially drawn to MWC's 20-year member
Giles Walker
's pole-dancing robots -- not for the obvious reasons, but because their heads are CCTV cameras, making a dual statement about peep show viewing and privacy, and the culture of surveillance that pervades London with these cameras. About
Pole Dancers
, Walker writes,
These pieces are two fully animated robot pole dancers. They are made from raw materials found in various scrap yards (eg. the motors that animate the pieces are 12V car wiper motors or window motors) and controlled, via a PC, using a DMX lighting programme.
'PEEPSHOW' - we are now all living in a peepshow. Continually being watched by mechanical peeping toms. With this in mind, I wondered if it was possible to literally make a CCTV camera sexy using simple mechanics...and by using the imagery of a pole dancer question the roles played in voyeurism. Could this pile of old windscreen wipers and odd pieces of metal become something sexual....
ABOUT CCTV:
- Street lighting is seven times more effective in cutting crime than CCTV. CCTV has no significant impact on crime statistics.
- Britain is the most monitored country in the world with 4.2 cameras....oh, and 500 000 bins fitted with electronic tracking devices.
Here's a sleek video of Pole Dancers in action:

The
Mutate Britain photo pool is here
, and full of great imagery, like this: