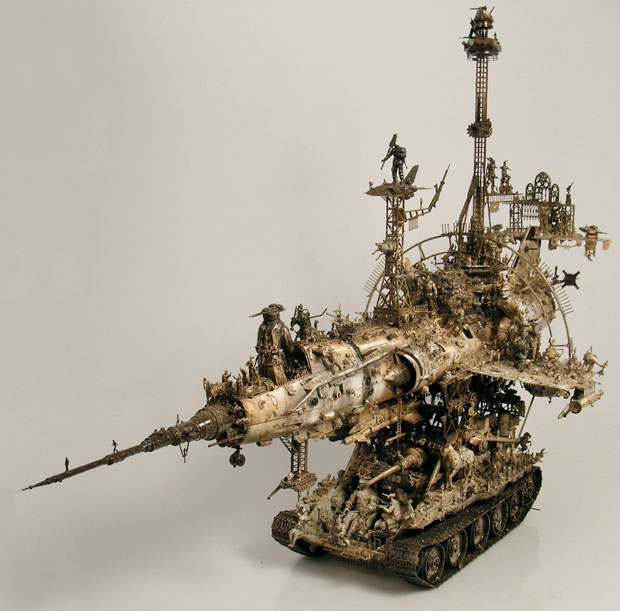 When you visit the website of sculptor and painter Kris Kuski, make sure you go right to the sculptures and: a) look at it on the largest monitor possible, and b) have plenty of time to spend soaking up the unbelievably intricate mechanical dioramas he's created over the past few years. Then take a moment at how fast his images load and how incredibly awesome his fullscreen mode is where you can zoom in to see the smallest mecha-detail: the site is pure win for the gallery design, for sure.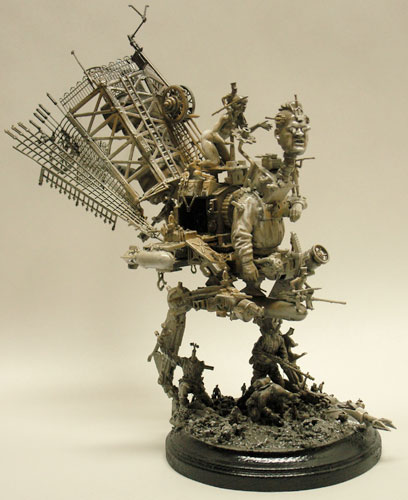 Kuksi's sculptures, unlike most of what's featured and focused on here, do not move or operate in any function, yet they're such outrageous imaginings of past, present and future fantasy mythology combined with all the pain and beauty found in human-machine mergings. Much of his sculptural work references decadence, devices, Babylon, illusions that lie within divinity, war, and of course, the macabre. His capacity for mechanical fantasy is overwhelming.
Dark, glorious and beautiful; I've been stalking this site all week. The small screencaps here don't do the images on Kuksi's site justice; click through. Take your time and don't expect a cheerful ride, but do expect to have your imagination altered and taken to a very (pleasingly) dark carnival, indeed.