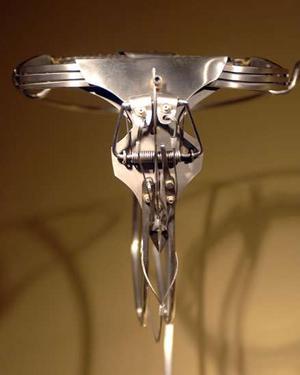 Jeweler, sculptor and fabricator Ira Sherman has been busy making sleek metal creations since the 1970s, but it wasn't until a friend -- jeweler and artist Holly Bobisuthi -- directed me to Sherman's mechanized sculptures and Impenetrable Devices last night that I became a full-on fan. The series was originally shown in 2002: Sherman interviewed five rape victims and designed chastity belts and corsets to fit the desires of what the women *most wished* they'd had when they were attacked. From brutality comes a feeling of vindication, and in this case, frightening beauty.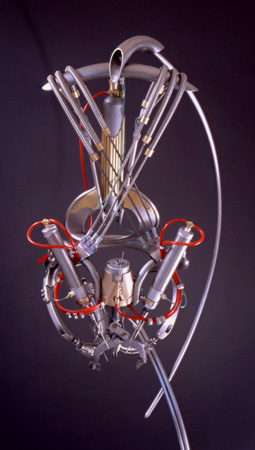 His Impenetrable Devices are jewels themselves, comprised of materials such as stainless steel, brass, glass, and jewels -- like a garnet for The Injector, carefully positioned. For The Injector, Sherman said " Two viewpoints were common with all rape victims, female or male. The desire to identify and capture the rapist was universal. The Injector device uses pneumatically powered hypodermic syringes to simultaneously inject tattoo dye and a powerful sedative into the attacker. The rapist drops in his tracks and is permanently identified making for easy apprehension."
According to his website, his sculptural work "... uses materials and shapes from science and technology, yet "bio-engineered" to interact with the audience or viewer in a uniquely human way. Many of Sherman's pieces are, in fact, "prostheses" created around a humorous social concept. These are worn on the body, and may be shockingly intimate. Many of Sherman's sculptures have sensors that let them interact with the participant or the audience. Parts of his current traveling exhibitions, "Panaceas to Persistent Problems" and "Impenetrable Devices" have been displayed in exhibitions in the U.S., Canada, Europe, Israel and Japan; the Spertus Museum, the Smithsonian Renwick Gallery of the National Museum of American Art and the National Ornamental Metal Museum have recently acquired Sherman art work for their permanent collection."
For his 2006 exhibition of Impenetrable Devices (which are rarely shown), Sherman told the Sydney Herald, "When you talk with someone who's been raped, you start getting details that are just horrifying. That horror I transform into my work," Sherman said.
"But if I were to make pieces horribly ugly and brutal, there's no redemption. The beauty of the work has a kind of redemptive quality."
Sherman's devices have names like Bear Trap Corset (below), Saber Tooth Speculum and Intimate Electric Fence. They are mostly steel and brass, with some electrical wiring and small mechanical parts.